About Solecta
Innovating Process Separations For A Better World
Solecta plays a globally impactful role in the development of novel separation technologies that directly support the improvement of the peoples' lives.
Our Purpose
To innovate process separations for a better world.
Our Mission
To be the industry leader for solving the most challenging process separations using innovative polymeric membrane solutions across industries and the world.

Client Success

Win as a Team

Dare to Shape the Future

Strive for Excellence

We Value Each Other

We Are Always Learning and Growing
What Makes Solecta Different
We focus on solving problems-not selling products. At Solecta, we combine a deep understanding of the client's success requirements with deep domain expertise to bring the best solution to every opportunity. We strive to provide a superior return on our clients' process economics while delivering the greatest possible client experience in the industry. Delivering on these three pillars is what truly defines the Solecta Difference!
Client
Success
Focused on our clients' success as the engine of our success.
Bottom Line Focus
Focused on process economics and where we can drive the biggest impact for our clients
Entrepreneurial Partner
Focused on being nimble, responsive and creative to support our clients' evolving needs and to build long-term relationships
Our Leadership Team
Here are some of the people behind the company – all are experts prepared and eager to help you develop and execute your growth strategy and implement your new innovation strategy.
Jim Ford
Chief Commercial Officer
Jim comes to Solecta as the Chief Commercial Officer with a vast array of business success from being a client advocate and change agent, to digging in and getting things done, to finding new business opportunities and improvements in current operations.Jim has a passion for understanding the customer pain points and finding ways to better serve the customer, while being proactive about sustainability for future generations.
Working in the industry for over 25 years across industries in Clean Technology, and an Engineering degree from the United States Military Academy, West Point, his success working in startups and Fortune 100 companies is no surprise.
He lives through the customer's eyes and truly seeks to understand their needs.He tries to always be curious and to truly understand the challenges our customers face so that he can help apply our expertise to provide them with innovative solutions to solve their complex process membrane challenges – across all industries.
Jim wholeheartedly lives his favorite quote from Nelson Mandela, "It always seems impossible, until it's done!"
Ravi Oswal
Chief Operating Officer
Ravi's favorite quote from Mahatma Gandhi, "Be the change that you want to see in the world," is fitting for his role at Solecta. Having executive leadership roles with companies known for innovative products based on advanced materials and polymers, such as Raychem Corporation (now Pentair Thermal Management), Ravi's role at Solecta is to drive the changes needed in order deliver products and services that exceed our customers' expectations.
Ravi has worked with startups Bloom Energy, Primus Power, and Arcanum Alloys, where he established Operations teams and processes from the ground up, enabling commercialization.
With a background consisting of Product Development, Quality and Global Operations leadership, and an M.S. degree in Chemical Engineering from M.I.T, Ravi leads all operating activities for Solecta. His mission is to ensure that Solecta develops, produces and delivers the products that customers need.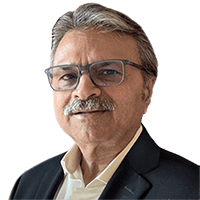 Sanjay Srivatsa
Vice President of Food Ingredients, Life Sciences & Manufacturing Markets
Sanjay Srivatsa came to Solecta in early 2020 as Vice President – Food Ingredients, Life Sciences & Manufacturing Markets. He has a wealth of experience and an esteemed career beginning in marketing and sales. Most recently, he was responsible for Global Strategic Accounts at Nalco Water, an Ecolab company, where he focused on water, energy and food safety strategies for leading global producers in the Food and Beverage segments.
In his role with Solecta, Sanjay focuses on "Co-Creating" sustainable and disruptive applications of leading-edge membrane technology for customers.
Sanjay has multiple degrees, earning a Master's Degree in Chemical Engineering from the Illinois Institute of Technology, and completing an Executive MBA course from the University of Chicago.
His favorite quote comes from Robert Frost: "The woods are lovely, dark and deep, but I have miles to go before I sleep, miles to go before I sleep."
Melinda Burn, Ph.D.
Vice President of Marketing
Dr. Burn comes to Solecta with a keen focus on the client. She holds a Ph.D. in Chemistry and has extensive experience in the specialty chemical industry across multiple end-use markets in roles spanning research, manufacturing, product management, sales, marketing, and business leadership. She has worked for a number of the leading chemical companies including DuPont, Invista, Ashland and most recently Solenis, both domestically and internationally.
In her role at Solecta, Melinda's focus is on collaborating with clients, partners, and engineering teams to understand long term market needs.  And from this, develop the long term strategy encompassing markets, applications, and geographies that focuses on bottom line results for the client and for Solecta. In partnership with clients and industry resources, she helps reinforce Solecta's thought leadership and unique focus which drives Solecta's success.
Melinda's optimistic attitude and drive for success comes from one of her favorite quotes, "Opportunities don't happen. You create them."
Albert Espinoza
Vice President of Finance and Treasurer
"Progress in life no matter what stage you are in, move forward" is the personal philosophy of Alberto Espinoza, the Vice President of Finance and Treasurer for Solecta.This philosophy has served him well in his successful careers at Callaway Golf and Honeywell International before coming to Solecta.
At Solecta, Albert provides the information and financial analysis to help the team make great business decisions. With a degree in Accounting from the University of Arizona, Albert actively works with the team to make sure all financial aspects are analyzed when making business decisions. His acumen and keen eye in working with numbers adds great value to our business teams.
Albert isn't one to sit on the sidelines, he actively works with his colleagues to ensure success. This is embodied in his favorite quote from Martin Luther King Jr., "If you can't fly, then run, if you can't run, then walk, if you can't walk, then crawl, but whatever you do, you have to keep moving forward."
Derek Hibbard
Vice President of Dairy Market
Derek comes from the Midwest, where he received his Bachelors of Science degree from the University of Minnesota where he studied Applied Economics and Food Science. Since that time, Derek has spent two decades committed to progressing the process membrane separations space in leadership roles with both systems and membrane manufacturing organizations.
His mission at Solecta is to ensure that Solecta is consistently helping customer solve important issues, providing the highest level of customer care, and delivering products on time that perform every time.
Derek has a passion for what he does, his favorite quote is from Theodore Roosevelt, "Far and away the best prize that life has to offer is the chance to work hard at work worth doing."
Mariusz Grzelakowski, Ph.D.
Vice President of R&D
As Solecta's Vice President of R&D, Dr. Mariusz Grzelakowski believes that leadership is about inclusion and diversity of thought which has helped him build successful groups of scientists and engineers in his previous roles at Applied Biomimetic (Vandstrom) , LG NanoH2O and Ciech/Zachem S.A.
At Solecta, Mariusz will be responsible driving the development of innovative membrane solutions and will work closely with Solecta's commercial, product management and operations team to accelerate the company's development processes and growth into new applications and markets. One of his favorite quotes is "If we have optimism, but we don't have empathy – then it doesn't matter how much we master the secrets of science, we're not really solving problems; we're just working on puzzles."
Mariusz has an extensive background in membrane technology and holds a Ph.D. in Chemistry from the University of Basel, Switzerland, and a Master and Bachelor of Science in Chemistry from the Nicholas Copernicus University in Torun, Poland.
True North Venture Partners
True North Venture Partners is developing an interconnected and symbiotic set of innovative technologies and businesses that will reshape core industries and help the world transition to a clean and sustainable future.
As one of its portfolio companies, Solecta benefits from the long term view True North has for the firm – to disrupt existing process separation operations with innovative technologies and business models.
Board of Directors
Mike Ahearn
Partner, True North Venture Partners
Matt Ahearn
Partner, True North Venture Partners
Alan Henderson
Partner, True North Venture Partners
Steve Kloos, Ph.D.
Partner, True North Venture Partners
Do You Want to Make a Big Impact?
We're hiring.
Solecta is looking for more of the best and brightest – those who want to make a positive impact on the world through membrane solutions in major industrial sectors across the globe.
Ready To Optimize Your Membrane Processes? Let's Chat